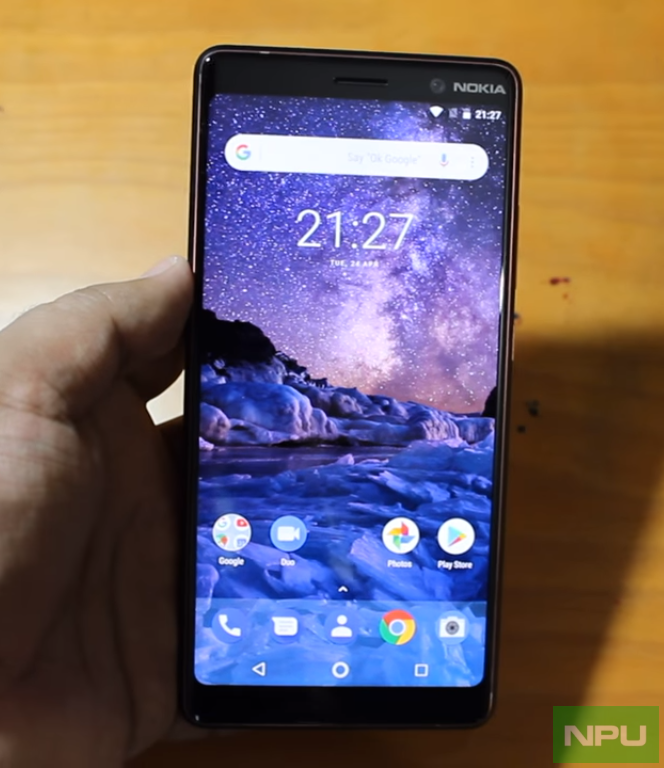 Nokia 7 Plus is the Nokia Android mid-ranger "flagship" smartphone. It is the first Nokia smartphone to come with a 18:9 ratio display and minimum bezels. It is powered by Snapdragon 660 processor, and packs 4GB RAM. The highlight feature of Nokia 7 Plus is the Dual-Camera module that it shares with much higher priced Nokia 8 Sirocco.
We have used Nokia 7 Plus Indian variant as our daily driver for around 40 days as per NPU's tradition. So, it may help you in deciding whether you should really go for Nokia 7 Plus as your next if you really wanted to own one and are still undecided.
Nokia 7 Plus Design:
Nokia 7 Plus is a handsome workhorse. It is a every bit a premium Flagship smartphone design wise. The display is the first 18:9 display on any Nokia smartphone. The front design looks refreshing and modern. Nokia 7 Plus comes with the least bezel sizes ever seen on any Nokia smartphone and have the fingerprint sensor moved to the back.
The Matt coating at the back gives it ceramic-like feel and good grip while holding in hand. It also has color accentuation across edges and also on Camera module and Fingerprint sensor. But the color accentuation is bit different from Nokia 6 2018.
Nokia 7 Plus is beautifully designed yet feels robust. It feels stable in hand because of its ceramic-coated back.
We have also compared Nokia 7 Plus to Nokia 8 Sirocco in terms of design and build quality.
Nokia 7 Plus Display (Colors, Outdoors, video watching & viewing angles):
Nokia 7 Plus display works remarkably well both indoors and outdoors. Because of it being "laminated and polarized", the sunlight legibility is top notch just like the Nokia 8 Sirocco display. For testing the display we have also streamed video and zoomed in to see the quality of the display. You can watch the video for more but here are our observations.
Nokia 7 Plus display packs lots of punch for a mid-ranger and has a premium quality feel. The 18″9 display ratio will appeal to many. Even after being a LCD display it has deep blacks and colors pop out.
It is very bright and ideal brightness level is around 50-60% in most of the cases. Adaptive brightness is calibrated properly and does its work in most of cases well.
Sunlight legibility is superb. The color interpretation and contrast are great.
Viewing angles are very wide.
Video streaming looks great because of that minimum bezel design, 18:9 display ratio and big screen size.
Nokia 7 Plus Audio Quality:
Nokia 7 Plus audio output is quite loud and clear. Audio quality is rich and even at full volume there are no distortions. Streaming videos or playing high-quality games constitute very good experience on Nokia 7 Plus. Though it doesn't come with a stereo speaker, the Single speaker with smart amplification works very well. Check the video above for our audio quality review.
Nokia 7 Plus Camera review & comparison to Nokia 8 camera:
Nokia 8 Sirocco and 7 Plus rear cameras capture lots of resolved details, keep colors natural with very less additional saturation. Both easily have one of the best smartphone cameras out there when it comes to details and color accuracy. Even in low-light conditions the cameras shine in both with or without flash conditions.
With Nokia 8 Sirocco and 7 Plus cameras with the Pro Camera mode, HMD has given fans the first powerful Nokia smartphone camera that will work in every lighting condition. These cameras can give any competitor smartphone camera a run for their money. We will soon compare Nokia 8 Sirocco and 7 Plus to Lumia 1020 to assess them further.
What also works in Nokia 8 Sirocco and 7 Plus camera's favor is that it is really fast in capturing and is very consistent in quality of capture. Images and videos come detailed and accurate in colors keeping the white balance appropriate most of the times.
But there are places where HMD can certainly improve the camera.
Omission of OIS is a surprising decision more so in the case of Nokia 8 Sirocco. Though EIS works well, it works by cropping the captured video to minimize effect of motion. So, you mayn't realize while you check the captured video on an individual basis, you feel it when you compare it to a camera with OIS. While Nokia 7 Plus is a mid-ranger, Nokia 8 Sirocco camera being the flagship camera should have come with OIS.
The Pro Camera UI is not available in video mode and that is a mistake, because Pro Camera UI is equally beneficial while setting the device for video capture.
Check our detailed Nokia 7 Plus camera review and comparison to Nokia 8 camera with Full-size images and video samples by clicking here.
Nokia 7 Plus performance review: Heavy Gaming, Browsing, & Multitasking:
We have conducted this test in heavy to very heavy usage scenario. So, there are some of the heaviest Android games open in the background along with a fourth game. Then we have the browser with 10 tabs, camera and other apps open in the background. So, how does Nokia 7 Plus actually perform in this very heavy usage scenario. You can decide for yourself by checking the video, but here are our observations.
Browsing:
Even with 10 browser tabs open it always seems that Nokia 7 Plus can take even more load. Pages load quickly. Scrolling, zooming, panning, tab changing all are very snappy.
Gaming:
Gaming is much enjoyable on Nokia 7 Plus and it is a gaming powerhouse in itself. We have tried to demo the game-play with heavy and critically acclaimed games like like GTA San Andreas, Mortal Kombat X, Asphalt 8 airborne and Sniper 3D. The device certainly holds the promise of hours of enjoyable game play without a pause. You would love the volume output and the performance of the phone remains blazing fast.
Multitasking:
With 3 super-heavy games (Android games GTA San Andreas, Mortal Kombat X, and Asphalt 8 airborne) and one heavy game Sniper 3D, 10 browser tabs, Camera, and many other apps open in the background Nokia 7 Plus remains totally responsive and lag-free.
All super-heavy games resume just fine from background and it seems Nokia 7 Plus can handle even more games and apps while multitasking. As you will notice in the video, apps/games resume fast from background during multitasking and there are no crashes/lags/freezes even with so much load.
Nokia 7 Plus Battery Life & Call quality:
Nokia 7 Plus has excellent battery life and I have been getting around 34-38 hrs of battery life with heavy "blogger" usage of the device, which involves lots of browsing, apps testing and daily chores. It may be around 40-44 hrs for a moderate to heavy use and that is really very impressive considering it is a powerful Android smartphone.
Nokia 7 Plus comes with an Aluminum unibody design but still offers stellar call quality because of its innovative Antenna design. Call reception is usually very good. I didn't face any issue like call drops etc and it holds well even during long conversations.
Nokia 7 Plus Positives & Negatives:
Negatives
Non-removable battery and inserting SIM and SD cards can be bit tedious
Positives
Flagship like design and premium build quality
The 18:9 display is simply great with best-in-class color interpretation, high brightness, and outdoor readability.
Performs like a champion; handles very heavy load with ease
Flagship imaging quality. Difficult to get in this price range
Fingerprint Sensor is really fast and suitable for use as default unlocking method
Final words:
Nokia 7 Plus offers you Flagship design and build quality, flagship like display with excellent outdoor legibility, flagship imaging quality and again champion like performance. For the pricing that it commands it is indeed a "Flagship killer" that takes away many reasons to go for an expensive flagship smartphone.
The Android One moniker for Nokia 7 Plus guarantees two years of Android OS updates and three years of monthly security updates. Perhaps, you can't go wrong with Nokia 7 Plus. With the latest Android Oreo update Nokia 7 Plus has received the Dual-VoLTE support making it even more lucrative.
Where to Buy:
Visit our dedicated post to check Best Price Deals & Buy links for Nokia 7 Plus from all markets including US, UK, India, Europe.