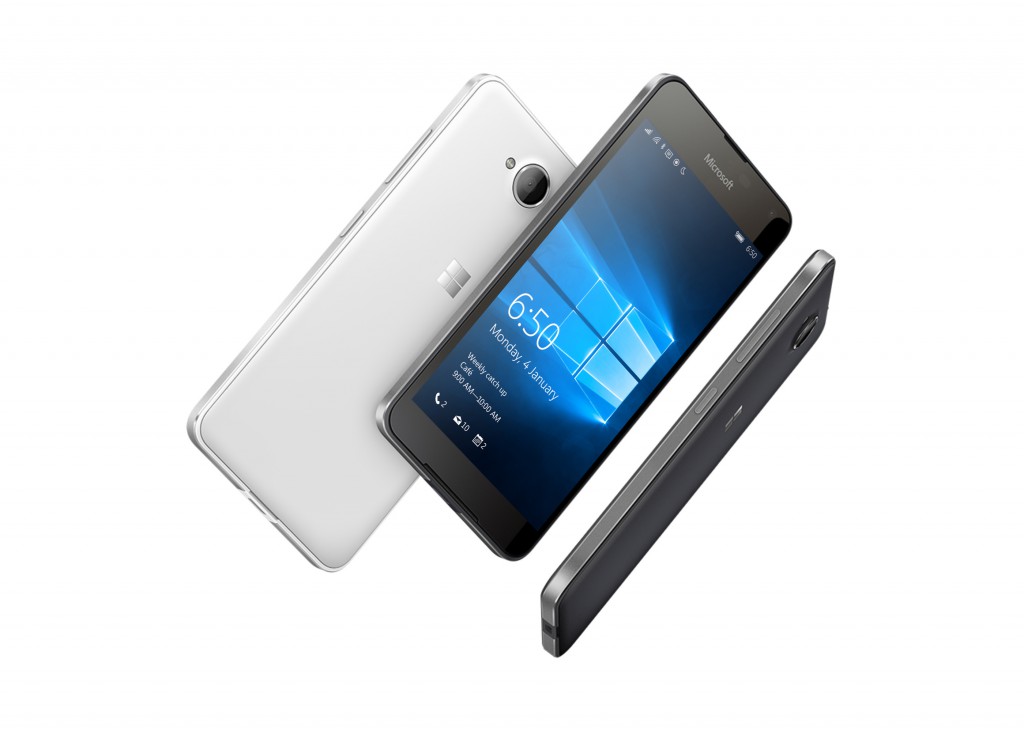 The Lumia 650 has been made official now by Microsoft for a Reference price of $199. We will keep this post updated with pre-order links, price, release date and other details from all the markets. Follow us on Twitter, Facebook, Google + & YouTube and Bookmark this post.
Lumia 650 Specifications, Features & Comparisons:

5″ HD (1280 x 720 pixels) AMOLED, ClearBlack display
1.3 GHz Quad Core Qualcomm Snapdragon 212 processor
8MP rear camera
5MP front camera
1GB RAM
16GB internal with expandable up to 200GB via microSD
Windows 10 Mobile OS
Dimensions: 142x 70.9 x 6.9 mm
Weight: 122grams
4G LTE / 3G HSPA+, WiFi , Bluetooth 4.1 LE
2000mAh removable battery
We have also posted detailed comparison between,
that gives you a good idea about how Lumia 650 compares to other mid-range Lumia devices in terms of specifications, feature and price.
Lumia 650 Best Deals & Release Dates (All Markets)
US & Canada:
Prepaid Lumia 650 can now be booked online at Cricket Wireless for a price of $109.
Unlocked Lumia 650 is now available to buy in US and Canada at the official Microsoft Store and also from B&H in US.
You can buy unlocked Lumia 650 for $179 from B&H
India:
Lumia 650  is now officially available in India for a price of Rs 15,299 in Microsoft Stores. Check below for two best deals.
Best Deals India:
ShopClues is selling Lumia 650 for Rs 13799.
Best European pricing (Delivered worldwide):
Stuff-UK is selling it for just EUR 118 (For the best UK & Germany deal, check the UK & Germany sections).
Netherlands :
Lumia 650 is available in Netherlands for EUR 199, and the retailer ships to UK, Austria and Poland too.
UK:
The Lumia 650 is now available to buy in UK and here is the best priced Sim-Free deal for just £99.42.
For £109 at official MS Store
Best PAYG Deal is being offered by CPW for £99.99.
Also at
Germany:
The Lumia 650 is available to buy in Germany for EUR 129 from MS Store.
France:
The Lumia 650 is available to buy for EUR 139 from MS Store.
Italy:
The Lumia 650 is available to buy for EUR 149 from MS Store
Best Deal is offered by Amazon for EUR 148.77
Poland:
The Lumia 650 is available in Poland for the best price of € 164.49 in Europe
Ireland:
The Lumia 650 is now available to buy in Ireland for EUR 129 and it ships by March 4.
Best Deals & Offers on other devices
A real-life image of Lumia 650 has been posted now by Evan Blass and the article also claims Wireless Charging as the part of the package. Read below for full detailed specifications, probable pricing and Release Date of the Lumia 650.
Lumia 650 aka Lumia Saana's press renders have been leaked via two sources. WinBeta got the front while now Evan Blass has leaked the back now. Check the images below.
We can also add a bit more about the devices' specs & release dates via our sources.
Lumia 650 Specifications & Release Date:
Metallic frame with polycarbonate body design
5-inch, 720p display with Gorilla Glass protection
1 GB RAM
16 GB internal Storage
MicroSD support
Snapdragon 212 processor
8 MP Rear camera and 5 MP FFC
2000 mAH Battery
Wireless Charging
You can read about all the Lumia 650 leaks by clicking here.
Lumia 650 Price & Release Date:
Coming somewhere in January – February. It may get announced with or around the launch date of Lumia 850, the successor to Lumia 830. Lumia 650 can be priced around USD 179 or 12000 INR if the pricing seen in Zauba records is any indication.
Our sources have confirmed to us that Lumia 750 is coming by early next year, while Lumia 850 is scheduled to arrive in Q1 next year. Read our exclusive report here.
Update:
As speculated by many in comments below, it does seem to have front facing speaker (since there is none on the back). On enlarging the frontal image crop it seems there is some kind of cover that is creating illusion of a metallic frame and top button but if you have a look at the image of the back, it does look like a metallic frame and metallic side buttons.