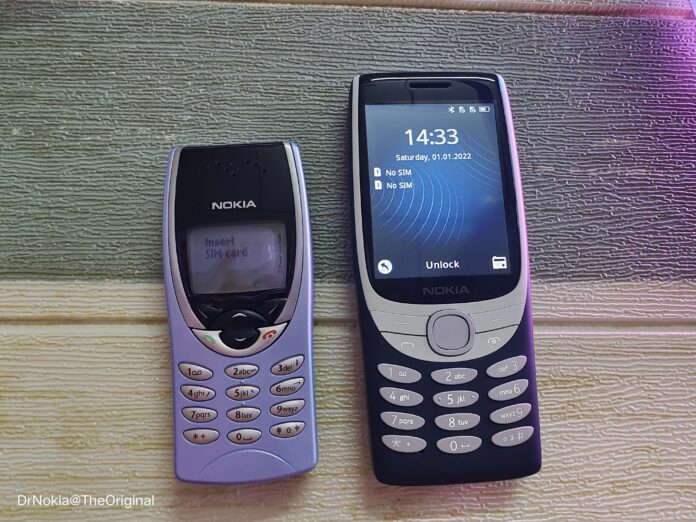 Introduction
The original Nokia 8210 is currently 23 years old. Launched in Paris in 1999, this was a game changer in the mobile industry. Phones became pocketable, and became an extension of a person for different attributes like fashion, social status and even mood! Phones during this era were large ,bulky and uninspiring block usually requiring an additional pouch to be carried, and the Nokia 8210 made all other device obsolete.
23 years later, HMD Global has rebooted this classic. But this isn't just a spiritual reboot. The Nokia 8210 4G has many new improvements and tricks that will impress us.
Nokia 8210 4G
While the original device was meant to be small,ultra compact and sleek, the rebooted version is aiming to be different. Its large. It looks monstrous next to its predecessor.
But, despite the difference in its dimension , both devices feel astonishingly similar. Both are comfortable in the hands and its sturdy without any loose parts unlike the flimsy slider of the Nokia 8110 4G.
My unit here is imported from India, as this device is only launched in select markets. This is the blue colored ,dual sim version and its Made in India. The packaging is rather simple which includes the device, battery, charger and a quick guide book. No headphones included.
The display is a large 7.1 cm TFT display which looks slightly dull with bleeding backlight. But the viewing angle is surprisingly good. The 143ppi density is just adequate and the text and icons look sharp. The 1GHz Unisoc T107 processor might sound like an overkill, but this device has some tricks that will impress you. The internal memory is 128MB out of which less than 30MB is available. Thankfully its expandable with a 32GB micro sd card.
On the rear is a VGA camera without flash. Ironically, there is a LED flashlight sitting on the top of the device instead. A peculiar arrangement indeed. The lack of WiFi is understandable here. But the device supports Bluetooth 5.0 which supports low energy and A2DP. One great addition here is the Wireless FM radio which works brilliantly.
Do head up to my unboxing and full walk through of each apps and features of the device here:
Conclusion
HMD Global is the top feature phone manufacturer in many markets. They could probably get away and still remain relevant in this segment by producing cheap feature phones without any additional features included. But seeing the Nokia 8210 4G, the Nokia 5710 XpressAudio, and even the Nokia 2660 Flip, I am confident that HMD Global is striving to be relevant in the market by not just populating in quantity but also emphasizing on its quality and attribution.
I am excited to see what the smartphone category has to offer which will be known in the next few weeks. For those curious on the Nokia 8210 4G, do hit me up in twitter with any questions and do follow to stay updated.https://twitter.com/theoriginal086