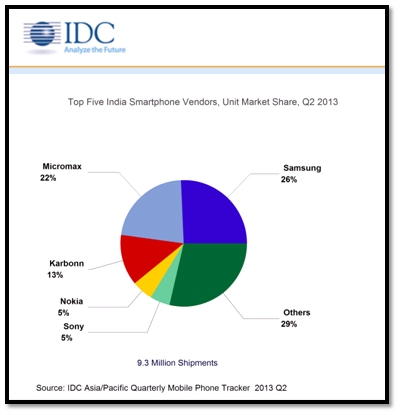 [embedit snippet="adversal-3″]
Latest IDC report puts Nokia smartphone market share in India at 5%. The report puts Nokia as 4th largest smartphone vendor in Q2, and talks about Lumia brand working for Nokia in India.
Nokia: With the company's decision to discontinue Symbian devices, the entire focus has moved to the Lumia range of smartphones. The recently launched Lumia 520 helped Nokia pick up volumes towards the lower end. The dedicated advertising and marketing push towards positioning Lumia phones as a quicker and cooler replacement to other brands is working in its favor.
With introduction of dual-sim Lumias Nokia's market share may really see further growth in India market as the report indicates India buyer's preference of dual-sim smartphones below $200 price range.
"The key for growth in this market, as with most emerging markets, is a low-priced phone equipped with a large screen and dual SIM slots," says Kiranjeet Kaur, Senior Market Analyst with IDC's Client Devices group. "The dual SIM phenomena, which had accelerated the growth of local vendors in feature phone, turned to dual SIM smartphones flooding the Indian market. Topped with an attractive sub-US$200 price tag, these smartphones are highly attractive," she adds. The share of sub-US$200 smartphones in 2Q13 accounted for two-thirds of the total smartphone market
Thanks Niss for the Tip. Cheers!
[embedit snippet="madsr"]