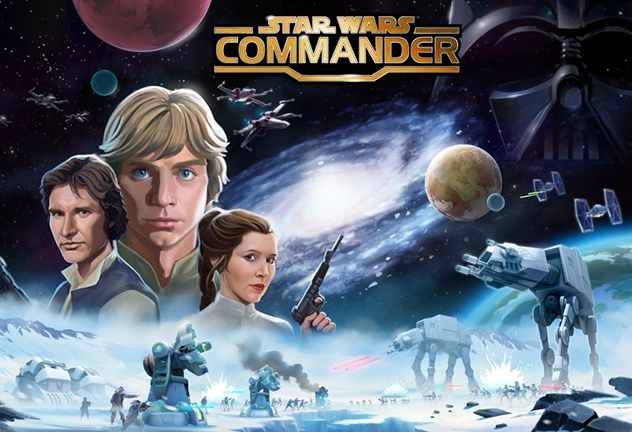 Disney's popular universal strategic game Star Wars : Commander has received a major update in Windows store. Seems to be this update is mixture of some new interesting feature and some bug fixes. Company has added a Day – Night cycle, heroic defence and many more new content in the gameplay with this update. Those who don't know about this game, then take look at game description below.
Star Wars: Commander
Fight for Your Side. Command The Galaxy. The Galactic War rages on. Where does your allegiance lie? Will you side with the Rebellion or the Empire? Join the fight, build your base, recruit and train your army, strategically plan your defenses, and lead your troops to victory on war-torn worlds throughout the galaxy! Battle with or against iconic characters like Darth Vader, Luke Skywalker, Han Solo, and Princess Leia, and utilize or destroy units like AT-ATs, Speeder Bikes, Wookiee Warriors, and Stormtroopers. Join millions around the globe to play in this epic combat strategy game. Commander, the fate of the galaxy is in your hands!
This latest update also packs with some optimization along with new features. Below is full change log.
What's new in latest version
***New content and features!***
• Day-night cycle – Now the lighting of all worlds switches from day to night, changing the appearance of your base and all gaming environments!
• Heroic defense – Build a scout turret to defend your base in the Challenges Defenses Eroica.You can decide to participate in a defensive battle twice a day, on each planet, to obtain stocks of crates.
• Improved editing mode: we have improved the management of the base!In the new mode, you can store and move their buildings in the position you prefer and with great ease.
***Other***
• Increased accuracy of star fighters.
• During the movement towards a goal, the units will not attack barriers and buildings that can be avoided.
• The AT-AT and Juggernaut units will no longer be blocked.
• Optimizations for better performance.
This game so actionatic and offers some good graphics quality. As game is universal, you can play this game on any Windows 10 device. The latest update takes game version to 3.6.0.9. The update is now live on store. Make sure that you hit following link to download this game.
[appbox windowsstore 9wzdncrdcvdw]