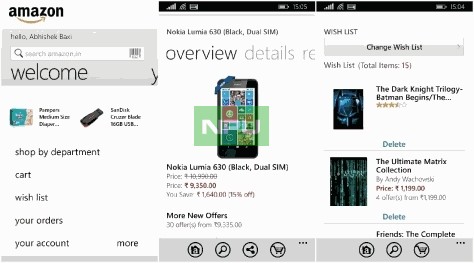 At beginning of last month, Amazon confirmed that they are no longer supporting their Windows Phone app and it will be removed from store in some weeks urging users to use mobile version of the website for further shopping.
Today company has started to inform users via email who have installed Amazon app on their Windows Phone that the content of app will not be updated after August 15.
From the email
Our records indicate that you have previously installed the Amazon App for Windows Phone from the Microsoft App Store.
We will be retiring the app you currently have on your device, meaning its contents will no longer be updated. You will still have access to the app until 15 August, 2016.
We encourage you to visit Amazon.co.uk on your mobile browser where you will have access to our newest shopping features and customer experience.
We look forward to seeing you again soon.
And also right now, it's quite unclear that company will release a UWP Windows 10 version of the app considering the 300+ millions users.
So in short after August 15, you will no longer have access to the Amazon app on Windows Phone. If you want to try out the app, you can still download it from Windows store
Thanks Tom for the tip. Cheers!!

Developer: AMZN Mobile LLC_inactive