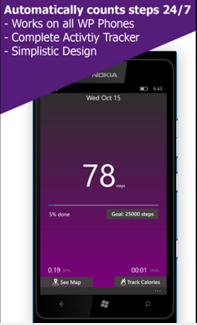 The Windows Phone app which has gone free next as myAppFree app of the  day is Steps Pedometer & Steps Counter Track Walk PRO. MyAppFree selects and tests each day hundreds of applications to suggest only the best apps and games available in the Windows Store. Download it now and save money.
It is a complete activity tracking pedometer which tells not only steps but shows map routes, distance, time and calories burnt. The app is simple to use and no gadget or extra wearable is required So everyone can give a try.
Pedometer that countis steps and your activity
Complete Activite logs with statistics
Track distance travelled, steps taken,calorie burnt, distance travelled
Download the app of the day
Download myAppFree
Developer: MYAPPFREE s.r.l.