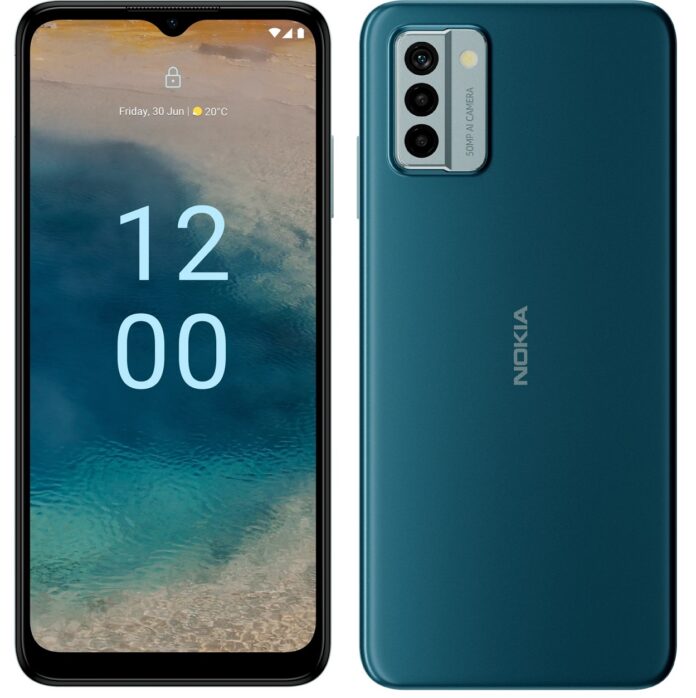 Nokia Mobile has launched three new smartphones yesterday in a low-key launch online. Nokia G22 was the expected one but Nokia C32 and Nokia C22 were unveiled too. One of the key new features that all three devices have is "Virtual RAM" or memory extension feature. This will allow all three devices to usher in better multitasking and gaming performance.
Nokia G22 features, pricing & release date:
Nokia Mobile has collaborated with iFixit for Nokia G22. The smartphone can be repaired with step-by-step repair guides and affordable replacement parts made available by iFixit.
Nokia G22 is made with a 100% recycled plastic back. It comes with two-tone colours feature on a thinner body with a high gloss finish to give it a luxurious feel, whilst the matte metal camera base and Corning® Gorilla® Glass 3 adds extra durability.
Whether you're listening through wired headphones, or the speaker Nokia G22 brings better audio to your podcasts and playlists with OZO Playback, delivering enhanced bass and clearer sound. Plus, you can pump up the volume with Audio Boost mode when you still want to hear your favourite tracks or podcasts in noisy environments.
High-end imaging algorithms support the 50MP camera for even better pictures. To make taking epic photos easy from sunrise to sunset, Night, and Quick Night modes balance highlights and shadows just the right way for the perfect nighttime shot using the front and rear cameras. The 6.52" HD+ display is perfect for appreciating every detail.
Nokia G22 takes you further with up to three days of battery life and a battery that maintains over 80% of its original capacity even after 800 full charging cycles.
On the inside, the Nokia G22 comes with 2 years of Android™ OS upgrades, three years of monthly security updates and extended three-year warranty at no extra cost.
Nokia G22 is packed with performance-optimising solutions like Auto Cleanup which helps your apps run even faster. And optional functions like One Press "clear all" to manually clear the cache for smoother usage and Excluded Apps which lets you pick and choose when and where the power goes at the press of a button.
Memory extension turns unused storage space into 2GB of additional short-term memory (RAM) allowing you to multitask smoothly and enjoy an experience that doesn't slow down as new Android features arrive.
Nokia G22 comes in Meteor Grey and Lagoon Blue and is available in 4/64GB and 4/128GB memory and storage configurations. Global average RRP 179 Eur.

At-home FixKits for Nokia G22 are available for 5 Eur from iFixit.com. Replacement parts are available from iFixit.com at a global average price of 49.95 Eur, battery at 24.95 Eur, and charging port at 19.95 Eur.
Read all about Nokia G22 at the official page by clicking here. Here is the Nokia G22 introductory video posted by Nokia Mobile.
Nokia C32 features, pricing & release date:
Bringing a refreshed design with a toughened glass back, two tone  finish and elegant straight sidewalls, it takes C-series into a new age of Nordic premium. A bright 6.5''HD+ display is wrapped in a choice of three bold colours, Charcoal, Autumn Green, or Beach Pink, all with matching accent details.
The 50MP main camera and 8MP selfie camera are supported by powerful imaging algorithms to get the most out of the hardware. Capturing more light than ever before and equipped with a bespoke night mode on both the front and rear cameras, Nokia C32 gives impressive pictures in any lighting conditions.
Enjoy Android 13 benefits straight away and customise apps to match your wallpaper, to make Nokia C32 unique to your style. From per-app language preferences to cross-device copy and paste, the versatile features let you navigate everything from work to entertainment quicker.
Toughened glass front and back, a robust metal chassis for extra support on the inside, and IP52-rated protection safeguards Nokia C32 from scratches, drops, and the daily wear and tear. On the inside, app hibernation and Super Battery Saver help Nokia C32 last up to three days on a single charge. To keep your data safe, two years of security updates come as standard for C-series.
Nokia C32 also comes with 3GB of extra virtual RAM with memory extension for smoother app usage. And like all Nokia phones, you get smartphone experience with less bloatware so you have more space for the things that matter most.
Nokia C32 comes in Charcoal, Autumn Green, and Beach Pink, and is available in 3/64GB and 4/64GB memory and storage configurations. Global average RRP 139 Eur.
Read all about Nokia C32 at the official page by clicking here.
Nokia C22 features, pricing & release date:

Outperforming the competition in rigorous free fall tests, Nokia C22 is prepared to take on the unexpected moments of daily life. It's kept safe from scuffs and scrapes thanks to IP52 splash and dust protection, toughened 2.5D display glass, and rigid metal chassis housed within a strong polycarbonate unibody design.
To get the most out of the 13MP dual rear and 8MP front cameras, Nokia C22 is packed with advanced imaging algorithms that give clear pictures sunrise to sunset. Take focussed portrait shots with beautifully blurred backgrounds. Night-time imagery has just the right amount of light and contrast thanks to a new, bespoke Night mode algorithm. That, combined with Auto HDR support for extra clarity, captures life's key moments in dazzling quality on a 6.5" HD+ display.
Nokia C22 with streamlined Android 13 (Go edition) with less bloatware makes your mobile data plan go further and means you get 20% more free storage – that's a thousand more songs or pictures! Performance-optimising features like Auto Clean, One Press, and Excluded Apps help your phone run faster by prioritising apps you use most. Memory extension turns unused storage space into additional 2GB of short-term memory (RAM), making multitasking simple and smooth.
Over 60% of digital fraud comes from mobile devices – Nokia C22 receives regular security updates for at least two years to keep you safe and continues evolving to protect you from new cyber threats. Quickly and securely unlock your phone with face unlock and the rear fingerprint sensor. A powerful battery is supported by the Battery Saver feature that's unique to Nokia phones, so you can go three whole days without worrying about charging.
Nokia C22 comes in Midnight Black and Sand, and is available in 2/64GB and 3/64 GB memory and storage configurations. Global average RRP 129 Eur.
Read all about Nokia C22 at the official page by clicking here.