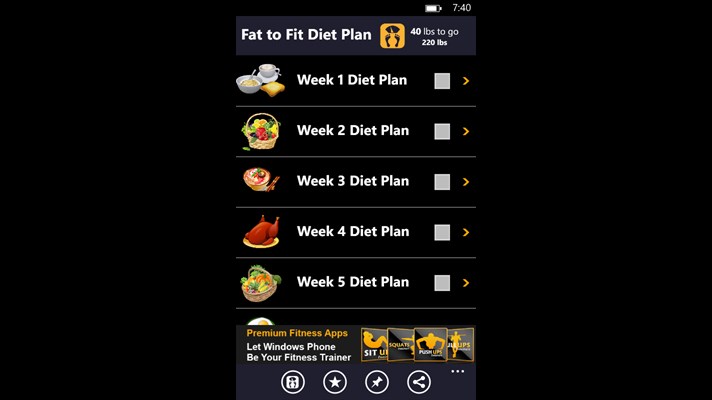 The Windows Phone app which has gone free next as myAppFree game of the day is Fat to Fit Diet Plan PRO. MyAppFree selects and tests each day hundreds of applications to suggest only the best apps and games available in the Windows Store. Download it now and save money.
About the app
Follow this plan combined with solid exercise regimen to lean up, get ripped slim-smart body structure with visible cuts and defined muscles. 12 Week 1800 calorie meal plan—created exclusively by nutritionists Dr.Chris (PHD) and Dr.Kara Mohr (PHD) can help lose over 60 lbs in just six months! App is simple to use comes with enjoyable interface, follow the plan and keep ticking days using in-built checklist to remember daily progress. Create your profile, set your weight goal and achieve it! Inbuilt PRO-Weight Tracker will keep you updated about your weight goals and weight loss progress though out. It also comes with beautifully designed LIVE TILE to show quick profile stats.App will also instant motivate you to accomplish your weight loss goal like how much weight needs to be reduced, appreciates your efforts with slogan "Wohoo! Goal met".
Features
– Delicious recipes

– Easy to cook, shop & saves time

– Visible weight loss in short span

– All 3 tile sizes are supported(small, medium, wide) – PRO

-Weight loss tracker – PRO

-BMI tracker ( Body Mass Index )

– Shopping List

– Enjoyable Interface

– Colorful food icons

– Easy to navigate through menu's

– Exclusive Food Recipes
Download the app now
Developer: MYAPPFREE s.r.l.