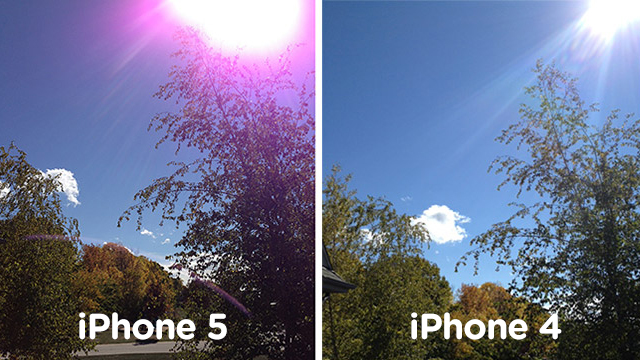 Apple seems in no mood of apologising again after the iLost Maps apology by CEO Tim. One more issue has been reported widely after series of issues like iLost Maps, iDent/iScuff Body, iLine Keyboard with the iPhone 5. It can be politely termed as "iPurple-Cam" issue of iPhone 5's Camera. Whenever one tries to capture a picture near a bright light source, Purple flare is seen in the image. Check the above image which clearly shows Purple flare in case of iPhone 5's camera.
 After the natural first reaction of denying it, Apple has acknowledged this iPhone 5's purple flare camera problem in an email to a Gizmodo reader. Their solution is, "Angle the camera away from the bright light source when taking pictures."  It again reminds us of the infamous reply in response to Anttenagate where they said, "you are holding it wrong" 😛 .
Here's their complete answer:
Dear Matt,

Our engineering team just gave me this information and we recommend that you angle the camera away from the bright light source when taking pictures. The purple flare in the image provided is considered normal behavior for iPhone 5's camera. If you wish to reach me regarding this case number *********, please contact me at 1-877-***-**** ext. *******. I currently work Thursday-Monday: 7:00am – 3:30pm Mountain Time. If you reach my voicemail, please leave your name, phone number, case number and the best time to reach you. Email is ***********@apple.com.

Sincerely, Debby AppleCare Support
Some photography experts have speculated that the purple flare is a product of the sapphire glass covering the iPhone 5's camera.
So, what do you think ? Shouldn't a company try to rectify an identified issue rather than providing knee-jerk reaction. Does this kind of treatment is meted out to customers, because they are taken for granted.