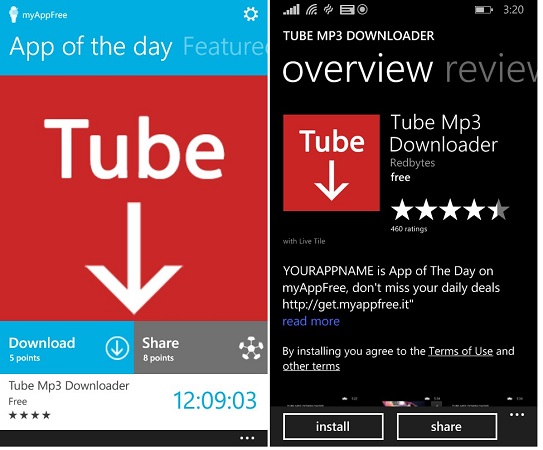 Quick heads-up!! Tube Mp3 downloader has gone free at Windows Phone store for limited time. This offer is from MyAppFree. The app lets one download audio of YouTube videos and in full version even allows to set them as ringtone. So, here is your chance to grab the full version.
Description & Features:
Download audio of YouTube video and save it in your media library, or unlock the FULL application to set it as your ringtone! With this app you can browse the most popular video platform for your favorite music and get it straight in your Phone library! This app is based on the most famous online web services for music conversion to give you the best quality and download speed!

After the download, you will find the music in your favorite music app – and you can copy it to your PC too! You can also set all the information you need on your track: title, artist, album, release year, genre and track number! If you want, you can even set it as your ringtone – no third party app needed, no need to plug in your phone to PC, just set your favourite video as ringtone*!

*Save as ringtone available in the FULL version only.