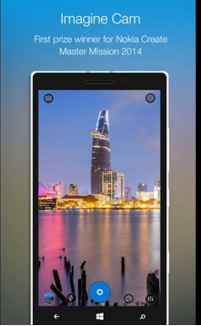 The Windows Phone game which has gone free next as myAppFree app of the  day is Imagine Cam. MyAppFree selects and tests each day hundreds of applications to suggest only the best apps and games available in the Windows Store. Download it now and save money.
Imagine Cam is one of the best camera app in Windows Phone OS. It was showcased at Mobile World Congress in Feb 2014 as a first prize winner for Nokia Create Master Mission – Nokia's biggest global contest. It's full featured cam app to take beautiful pics. It provide Imagine Editor for edit photos, edit effect in photos.
Features :
– Shutter Speed

– Sensitivity

– Scene – Flash

– White Balance

– Brightness

– Front Camera

– Back Camera

– Photos Gallery

– Photo Editor

– HDR

– Colorful Photo Effects with more than 60 effect

– Beautiful Frame

– Funny maker

– Bokeh maker
It is one of the best myAppFree deal , so don't miss it 🙂
Developer: MYAPPFREE s.r.l.